Public art commission, Grangegorman Development agency in collaboration with National Museum Ireland, Collins Barracks.
Stories Between Us initiated by artist Janine Davidson is an art-based inter-generational project involving partnering with The National Museum of Ireland – Decorative Arts & History, Collins Barracks and St. Gabriel's National School in the Dublin 7 area. Project participants included 5th and 6th class students of St Gabriel's National School and senior citizens from Henrietta Street Adult Community Education (HACE) and Phibsboro Retirement Association.


The curatorial team included the artist Janine Davidson, Helen Beaumont and Aisling Dunne from The National Museum of Ireland, Education; Dr. Muldowney, Dublin City Council Historian-in-residence and Anna O'Loughlin Project Leader and Community Liaison Teacher, St. Gabriel's National School.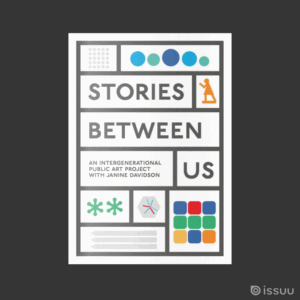 Click here to view the Stories Between Us booklet.